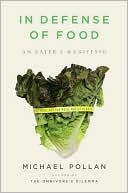 I heard the
interview
with Michael Pollan on NPR about his new book
In Defense of Food
and couldn't wait to read it. Allison bought the book the other day and I'm sure she'd share but I couldn't resist when I saw it on the shelf at
Powells
the other day . In fact, I'm down right proud of myself for only walking out with one book for myself.
After deceiving my kids for weeks now with
Deceptively Delicious
recipes like pancakes with pureed sweet potatoes and mac'n'cheese with pureed cauliflower, I'm very curious and conscious about what I'm feeding my family.
Please disregard Mondays mention of feeding my kids a hot dog Costco dinner. Moderation. Everything in moderation.
The whole book summed up by Michael Pollan,
"Eat food. Not too much. Mostly plants."
I think he wrote that as a reminder just for me.
Now onto aliens.....
I also just finished
The True Meaning of Smek Day
by Adam Rex. It's a memorable book to have on the shelf for those tween years. The adventures of an 11-year girl and her friend (a Boov alien) during two alien invasions. How she saves the world and is wise enough not to take the credit.
Here's a little piece of Boovish History:
400 years ago--Art is replaced by Entertainment.
350 years ago--Entertainment is replaced by Talking About Entertainment
325 years ago--Talking now almost always occurs over vast distances--on phones, or by computer. Face to face communication is carried out mostly by t-shirt.
(167)